Every once in a while, a story that moves us so deeply we don't think we'll ever be able to forget it. After the Fire: A True Story of Friendship and Survival
is just such a story.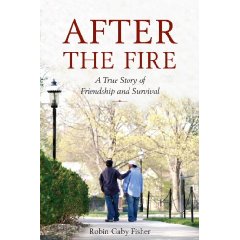 Before picking up this book by Robin Gaby Fisher, I didn't know about the Seton Hall dorm fire that claimed three lives and injured 58 others in January 2000. Fisher's account centers around the two worst casualties, freshmen roommates Shawn Simons and Alvaro Llanos. It struck a chord with me from the beginning…the winter night that the friends awoke to find their dorm on fire. The only escape route was through thick smoke that seared their lungs and the flames that ravaged their bodies. Shawn found his way out first. Miraculously, his injuries weren't as devastating as Alvaro's. Alvaro, who literally caught fire, suffered burns over more than half of his body. At one point, the hospital staff wondered if they did Alvaro any favors by saving his life.
Based upon interviews with the boys, their families, medical personnel and police investigators, Fisher tells the story of the months spent in ICU and rehab, the physically and emotionally grueling road to recovery, and the search for the culprits. I became so intrigued by this story that I searched online for information about Shawn and Alvaro. The pictures I found aren't for the faint of heart, but being able to see them made me realize how much of a miracle their recovery was. I understood why the doctors, nurses, therapists, and investigators were terribly shaken by this incident and saw how they became so attached to both Shawn and Alvaro.
There's no way imaginable that a 200 page book could capture the road that Shawn and Alvaro have traveled, but Fisher gives a chilling glimpse of this most difficult and unending journey.
Melissa has been captivated by books for as long as she can remember. She resides in Virginia and at Breath of Life