Music colors the background of most of my childhood memories. We are a musical family and we enjoy listening to all sorts of music, singing, playing instruments and being loud! When Boom Pah by Phil Cummings was first published I saw it on the shelves of my local bookstore and it was quickly added to our personal library – the theme fit in perfect with our music loving family and the illustrations are timeless. Reading through Boom Bah  by Kane Miller Books on the iPad was a completely different and delightful way to revisit this old favorite.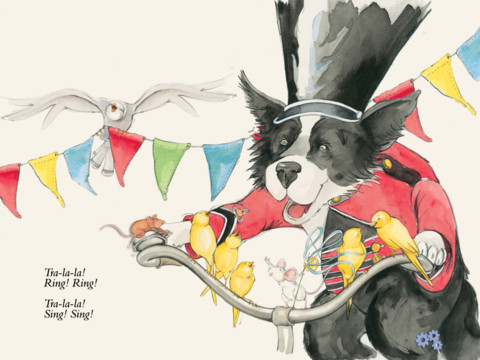 The book opens with a simple "Ting!" and evolves into a full band of makeshift instruments and a group of animals enjoying themselves – making music, dancing, marching. Then they meet up with a full brass marching band and the fun just gets bigger and louder! The sound effects and added motion of the iPad version of the book are very well done. We set the book to allow the narrator to read it for us and then experimented with touching the different items. The kids enjoyed the way the music builds and when we got to the end my 3 year old played the whole band over and over and over again standing up and dancing around, then touching the screen to make it go again! My 4 year old was also fascinated with the motion built into the book – she noticed that when you made the "ting" noise the mouse moved the spoon to hit the cup and then she went carefully through each page to see what moved when a noise was made.
We were also given the opportunity to read A Garden For Pig also by Kane Miller Books. This was a new book to us and one we thoroughly enjoyed. We have a rather large garden and the kids enjoy "helping" with that each year. They were eager to start reading this book because it is about a garden.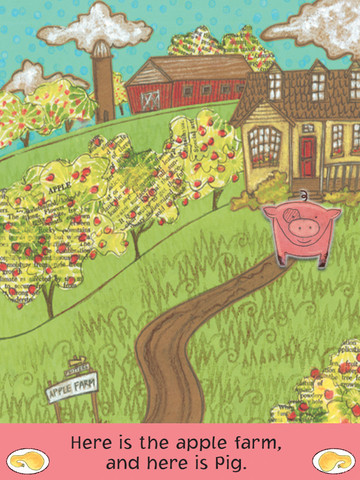 My son really got into this book – he loved the "thud" sound when the pig tries to break through the fence, the oinking noises and the doom music that plays when Pig is in trouble. My daughter wants to try out all the recipes that are built into the story, and she also liked the pages where she could make pig jump from place to place until he disappeared. But the best part of the story for both of them is when the pig has his pen looking like a garden and starts wishing for some seeds then all of a sudden "…rumble says his tummy. Ploop! Out come the seeds! Pig had them all along." When they got to that part they started giggling and Pig "stinkied" over and over again in my living room! When Daddy got home that night the first thing they did was make him read the book with them and giggle over that page.
After reading through these two Kane Miller Books for iPad we will definitely be purchasing some of the others before our next road trip – they are easy enough for the kids to read themselves with minimal supervision and keep them occupied for a good stretch of time as they take turns going through the story exploring the different sounds and actions.
We received complimentary copies of Boom Pah and A Garden For Pig in exchange for our opinions. They can be purchased individually in the itunes app store, or as a part of the storytime app.
Guest Reviewer Jenn is a Graphic Designer who traded in days spent creating junk mail and training dogs to days spent raising her two children while creating junk mail in the middle of the night. She thinks that reading and electronic gadgets are best enjoyed in a cozy chair with a cup of coffee and a couple of good dark chocolate truffles. When she finds time, you can find her blogging at A Blessed Crazy Life or on Pinterest.