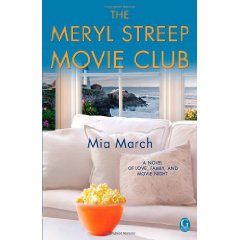 The Meryl Streep Movie Club by Mia March is typical — and typically entertaining — chick lit. I love reading about friendship, whether it's in the pages of a novel or a memoir or non-fiction book that explores the subject. This book is slightly atypical, because the women don't necessarily come together as friends, but their relationship definitely changes.
Years ago sisters Isabel and June had to go live with their cousin Kat and their aunt Lolly in her inn after their parents and Lolly's husband/Kat's father are killed in a car accident. Raising three adolescent girls isn't easy in any circumstance, but Isabel harbors her own feelings of guilt about that night, and of course the girls are seriously affected by the loss of a parent. They didn't have an unhappy childhood, but they haven't stayed particularly close.
When Lolly summons June and Isabel to the inn  (where Kat is living, trying to get a baking business off the ground) to tell the three girls that she has cancer, they begin to open up to each other. Lolly loves Meryl Streep and the occasional movie-night at the inn becomes one focused on her favorite actress.
From the publisher:
Each woman sees her complicated life reflected through the magic of cinema: Isabel's husband is having an affair, and an old pact may keep her from what she wants most . . . June has promised her seven-year-old son that she'll somehow find his father, who he's never known . . . and Kat is ambivalent about accepting her lifelong best friend's marriage proposal. Through everything, Lolly has always been there for them, and now Isabel, June, Kat–and Meryl–must be there for her. Finding themselves. Finding each other. Finding a happy ending.
If you are a fan of Meryl Streep, you'll enjoy the way the characters dig into a movie as they see parallels applied to their lives. If you are familiar with the movies discussed (Bridges of Madison County, Mamma Mia, Kramer vs. Kramer, Heartburn, and more), you'll feel even closer to the characters.
Because the four main characters are so different, everyone will likely identify with someone — Isabel who seems so perfect on the outside, but is a mess inside; June who is a strong single mother stuck in the past, sweet, talented Kat who wants to please everyone, but not lose touch with her dreams, and reserved but warm-hearted Lolly.
Jennifer Donovan — like the women in this book — thinks that books and movies are a great way to help us take stock of our own issues and think through our problems. She blogs at Snapshot.