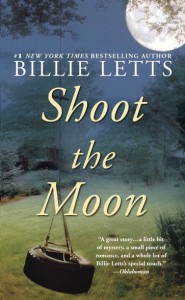 Several years ago, I read Where the Heart Is
by Billie Letts. You might remember this story about Novalee Nation, the pregnant teen abandoned in Wal-Mart by her boyfriend (this book was made into a movie starring Natalie Portman and Ashley Judd). What I remember most about this book, other than Novalee giving birth inside the Wal-Mart, is how real the characters seemed. They were flawed, funny, loving, cruel, real.
Ms. Letts' Shoot the Moon
is no different. After the death of his parents, Mark Albright, veterinarian for the posh pets of Beverly Hills, discovers that he was adopted. He heads to DeClare, Oklahoma in search of his family. When he arrives, he discovers that his birth mother was murdered in 1972, and the community presumed he was dead as well. When Mark begins to dig for answers, a few of DeClare's citizens are not pleased.
This story is both humorous and suspenseful. Like Where the Heart Is
, the characters are true to life. They are the men you run into playing cards at the local diner, the small-town sheriff who likes being in control, and the doting family members who want to feed you and hug you until you can't take it anymore. If you are familiar at all with small-town life, you will recognize these people. And, although I could do without the language of some of the characters, you could classify it as real too.
With love and mystery woven together, Shoot the Moon
will have you turning pages to find out the truth of Mark Albright's history. If this book interests you, leave a comment. There is one copy available for a lucky winner. We'll post the winner next Wednesday.


This giveaway is closed.
Lauren is a wife, a mother of two, and an avid reader. She blogs at Baseballs and Bows.