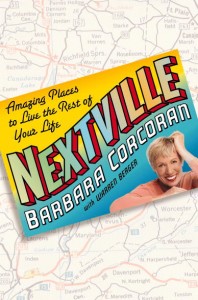 I lived most of my growing up years in the same Tennessee small town, and my dad worked in the same location for all of those years. In the past decade, however, my parents have moved several places, including D.C., Ohio, and California. My dad is planning to retire in one year, and my parents will move back to my hometown. We will be so thankful to have them closer.
My parents are among the many baby boomers entering their retirement years. While my parents are choosing to return to a community they know and love, options for retirement are greater than ever before. In her book Nextville
, Barbara Corcoran explores the amazing opportunities available to baby boomers, and she emphasizes that most retirees now want more than the simple relaxation sought after by the many seniors who chose Florida in decades past. An amazing number of baby boomers want to have access to cultural events, volunteer opportunities, part-time jobs, or life-long interests they want to explore more fully.
Although I am years away from retirement age, I found this book very interesting. Barbara Corcoran first encourages seniors to consider what type of retirement is right for them. She explores four different types of retirees and gives examples of specific locations that might fit their retirement dream. While some of the retirement plans might be out of reach for some (an endless cruise in a condo on the luxury ship named The World at $2 million and up), Ms. Corcoran also includes similar ideas in much more affordable price ranges (like a $170,000 three-bedroom home near Knoxville where you can launch your own boat and sail all the way to the Gulf of Mexico uninterrupted).
If you are nearing retirement age, or you know someone who is, this is a wonderful resource. Whether you are interested in living young, forming a new community, living green, pursuing your purpose, or losing yourself, Nextville
has ideas and information for you!
In addition to reviewing books, Lauren blogs about her daily life at Baseballs and Bows.