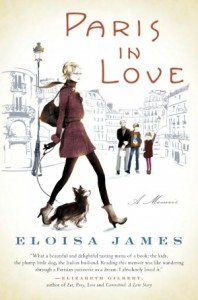 Give me a novel or memoir with a strong sense of place, and I'm usually hooked. Add the fish-out-of-water element of experiencing life in a new place, include a bit of envy-inducing fantastic experiences, and you have a book that I'm almost sure to enjoy.
Paris in Love: A Memoir wasn't exactly what I expected, but it did contain the elements above, and I definitely enjoyed it.
Please click through to my review at 5 Minutes for Mom to see why it wasn't exactly what I expected, but why that also made it the perfect summer read! Leave a comment over there, and you'll be entered to win your own copy.