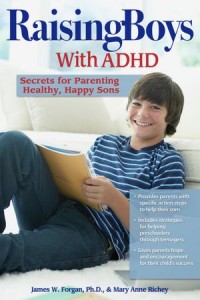 Parenting is never easy, and the publishing industry certainly offers countless new titles every year geared toward parents looking for support or guidance. For some parents, a specific issue becomes the focal point of their parenting experience. One book that came out this spring is tailor-made for parents like me: Raising Boys with ADHD: Secrets for Parenting Healthy, Happy Sons by James W. Forgan, Ph.D. and Mary Anne Richey.
This comprehensive guide reaches parents at different stages in their child's development, from the preschool years through adolescence, in terms that are understandable and wholly realistic. A variety of treatment options are discussed, and most importantly, presented in a respectful manner. There is no clear bias from the authors indicating a preference or resistance to medication, for example, one issue that parents often face when a child is diagnosed with Attention Deficit Hyperactivity Disorder. In addition, two perspectives are shared from medical doctors on the role of medication with ADHD, how stimulant medications work, and how treatment works.
As children get older, the impact of ADHD on school performance becomes a significant concern for many. Practical guidance is offered on how to seek educational services such as an Individualized Education Plan (IEP) or a 504 plan which offers accommodations in the school environment. Often, parents may not realize that their children are legally entitled to such services, and the advice given here helps parents determine what will work best for their own child. What can be a struggle to even get started doesn't have to be!
As with many parenting books, the information presented can become overwhelming to remember, but Forgan and Richey try to head that off by providing simple recaps at the end of each chapter along with a few specific "action steps" for parents to act on immediately. Wherever parents may find themselves when they read this book, there's something to take away and put into use right away.
My personal history with parenting books is going on its twelfth year now, and for the last eight of those, ADHD has been at the forefront of my quest for information and advice. That being said, you can be assured that I've read more than a few ADHD-specific books, and I cannot speak highly enough of this one. I wish I had it when I was struggling to understand why my four year old son had such difficulty with his peers, and I'm certain that it will be regular reading for reminders as we now face the adolescent years head on. I appreciated the respectful and compassionate tone of the entire book that conveyed the sense that the authors truly understand our challenges and worries as parents, and I found myself highlighting and dog-earring passage after passage. The specific intended audience should take note, for Raising Boys with ADHD: Secrets for Parenting Healthy, Happy Sons definitely deserves a place in their personal libraries.
Dawn seeks out any advice she can get, and parenting is one of her experiences that can always use improvement. You can find her blogging away at my thoughts exactly.