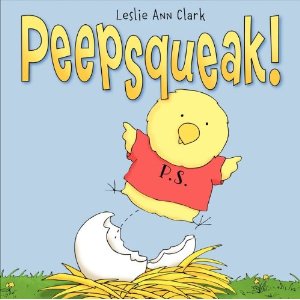 I am not a Picture Book Mom. I never felt like I mined the depth of what is available for young children in the way of picture books, both fiction and non-fiction.
I did enjoy sharing books with my kids when they were toddlers and preschoolers, but I stuck with what was familiar to me and that which felt comfortable. Discovering Peepsqueak! by Leslie Ann Clark evoked those days. I could practically feel the weight of Amanda or Kyle in my lap as I sat and read to them. Alas, at 13 and 7 1/2, reading no longer involves that close contact, but this is exactly the sort of book we enjoyed back then.
It has the sort of repetitive short-sentenced progression that I enjoy reading aloud:
Peepsqueak fluttered.
Peepsqueak hopped.
But more than anything, Peepsqueak wanted to fly. . . . HIGH!
The message is one of empowerment and support as Peepsqueak is determined to be "on the move" whether learning to fly or swim.
The illustrations, also done by author Leslie Ann Clark, are delightful. The baby chicks each have their own fun flair: the initialled P.S. t-shirt; a bespectacled bird; and others who don a flower, or a tie, or a beaded necklace. You can see more of the style in the video:
The book caught my eye, but what sealed the deal (and actually caught the eye of both of my much-too-old for this book children) was the inclusion of this sweet little plush chick from Merry Makers. I can't find a link for it on their site (but they do have some other awfully cute book tie-in plush animals), so I'm assuming he's not ready yet, but be on the lookout (get a sneak-peek on the author's blog). I'm assuming that he will be available in independent bookstores and online as well.
I honestly can't wait to give this book and little guy as a gift. It would make a perfect shower gift or first birthday gift, and an amazing Easter gift.
Jennifer Donovan misses Elmo, and Thomas, the good dog Carl, the very hungry caterpillar, and Sandra Boynton's world. She writes about her half-grown kids at her blog Snapshot.