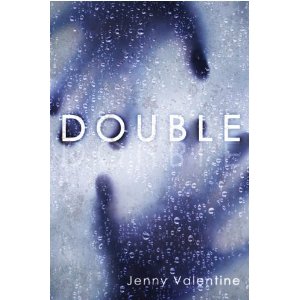 Identity is a common theme in young adult literature. Jenny Valentine's novel Double takes this theme to an entirely new level.
Cassiel has been missing for years when 16-year-old Chap, who has been living on the streets, is mistaken for him and returned to Cassiel's family. We don't really know who Chap is or why Cassiel went missing or how it is that they could look so much alike as to fool Cassiel's own family. Chap doesn't understand this either, but since he's never really had his own normal family, he goes along with it. The mom is a bit batty, the big brother seems like he's hiding something, and the sister can be overbearing, but they've loved and accepted Chap without question, and he kind of likes it.
It's only when Chap begins interacting with some of Cassiel's friends that he begins to wonder what he's gotten himself into.
Double is a pretty easy read — definitely for teens, but it's short enough and simple enough to appeal to young men and women who are intimidated by thick spines and complicated plots. This suspenseful plot kept me turning the pages wanting to know what had happened and why and how it was all going to end up. Fairly soon into the plot, I was rooting for Chap and wanted it to work out for him.
Jennifer Donovan enjoys reading non-fiction and fiction for all ages. She blogs at Snapshot.