When my son was born I owned maybe one picture book concerning the Christmas holiday and in the three years that he has been around since, I've been on the lookout for books to add to our home collection. These are a few books that I've had the pleasure of reading through this year which I am happy to recommend to you, as well as offer you a chance to win copies for your own home! Take a look at these offerings, the first three of which are from Zonderkidz books.

The first book is Who Was There on Christmas Night?
and was just released in October this year. It is an interactive book, including a wheel that the children can spin to put different heads on the innkeeper of the stable where Mary and Joseph arrived. They can also change the cow's tail (is it a pig? a fox?) and the head of the staff the shepherd is carrying. My three year old loves spinning the wheels in this book. I wasn't sure how he would take to it, but think of butter and bread. He spins, he laughs, he shows me how he has changed the picture. If you have a kid on your hands that likes to interact with books, and are looking for a straightforward telling of the Christmas story then you might want to pick up this very affordable book.

One Shining Star
: A Christmas Counting Book is a PERFECT "Baby's First Christmas" book! This is a sturdy board book that counts from 1 to 10, documenting the story of Jesus' birth. From "One shining star, big and bright, One baby boy born this night" all the way to "Ten little [nativity] figures by my bed, I snuggle down to rest my head, and count each one this Christmas night." This book is extremely attractive, simple, appealing, etc., etc., etc. Love this one to pieces!

Tiny Baby Jesus
is perfect for toddlers and young children who have figured out that the baby born in the stable is the same person who grew into a man and died on the cross. Each page only has a sentence or two on it but the page spreads alternative between the baby Jesus and the man Jesus. For example, we start out by meeting the baby. "Tiny, tiny fingers touch a piece of hay." Turn the page and you discover that "now those very fignters, grown so sure and strong – Jesus is a carpenter, working all day long." I have never seen a Christmas book quite like this one before but I like the way it ties the whole story of who Jesus was together. I think this book is definitely more geared for toddlers but since that is where we are at right now, age-wise, it's a perfect fit!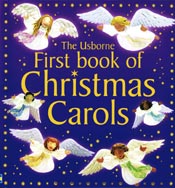 Lastly, one of the greatest things to introduce children when it involves celebrating the holidays, is the music! Usborne Books & More offers The Usborne First Book of Christmas Carols which is perfect for little eyes, little fingers and little voices. It is illustrated with photographs of Jo Litchfield's handcrafted clay models which makes the book a little unique. The music is provided in case any budding pianist would like to give it a shot and the songs include at least two full verses. Well-known and basic Christmas songs are included, including Away in a Manger, Deck the Halls, While Shepherds Watched Their Flocks, We Wish You a Merry Christmas, and others. This is a clever little book and a great way to sing through Christmas with your little ones. Although this book is earmarked "ages 6 and up" I would not agree with that. I think it's perfect for birth to beginning piano, whenever that might be. This is a very fun book and I'm happy to recommend it.

Thanks to both Zonderkidz and Usborne Books & More, we have one copy to give away of each of these titles to one of you. If you would like to win, please leave one (and only one) comment below. U.S. Residents only, please.
THIS GIVEAWAY IS NOW CLOSED
Entries will be closed on December 8, and we will announce the winners on December 9. Please watch your email and check the site for your name, so that we can collect your shipping information and you can get your gift by Christmas.
Be sure you've entered all the giveaways in our 2009 Gift Guide and Giveaway event.
Carrie comes by her book obsession honestly, having descended from a long line of bibliophiles. She blogs about books regularly at Reading to Know and Reading My Library.