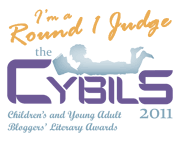 Happy Friday everyone! As we all prepare for the weekend, perhaps you have a trip to your library on the schedule, and I'm always happy to offer recommendations for you to seek in the picture book section. The Cybils nominees I'm chatting about today are a little more on the sophisticated side, not necessarily in the textual content, but more in the tone and feel of the stories. My main audience at home consists of my three year old son and five year old daughter, and I'm also privy to the opinions of eighteen more three and four year olds in my preschool class. In my opinion, these three titles connect the most with the older end of this spectrum- if you've got a kindergartener or first grader, I'm thinking they'd have the most fun reading these with you!
Oh, Peter Brown, how you crack me up. With his latest release, You Will Be My Friend!, young readers are reunited with Lucy the bear, the enthusiastic character who learned the hard way last year that Children Make Terrible Pets. This time around, she is determined to make a pal, but her approach may need a little tweaking. Sure, you can pull a "message" out of this story, but kids are more likely to be guffawing as she errs slightly in her efforts. Older children will need less explanation of some of the humorous points of the story than preschoolers– you'll get that reaction of "Oh, I get it!" from them, I'm willing to bet. As usual, the illustrations are immediately appealing, and there's even information on the Amazon page about the unique way Brown creates them. And, you can check out Lucy and Peter in the book trailer, a good way to get your child excited about reading the book!
Right from the title page, Alex T. Smith makes it clear that Foxy and Egg is a bit different from most picture books. On that page, the two main characters are introduced as if in a stage or screen production, and the story begins in a way that will make classic movie buff parents chuckle. Older children will get a kick out of Foxy's natural slyness, as the cunning fox is a well-known theme in many traditional children's stories. But the ending may take them by surprise, rousing the laughter all around. As a self-proclaimed "lover of words," I'm thrilled with this book's rich language, including a ton of beautifully descriptive adjectives. Great fun!
Appearances can sometimes be deceiving, and with Jon Klassen's I Want My Hat Back, what you see at first glance is not necessarily all there is to the story. The story line seems pretty straightforward, with the bear on the cover searching for his lost hat. As readers soon find out though, his search may yield an interesting discovery. Okay, it's a little subversive, perhaps, but in a good way, trust me. I encourage adults to read it ahead of time before sitting down with your child, so that you know what's coming. It'll help you prepare the right kind of voice, and I predict you'll have as much fun with this one as the audience to whom you're reading.
Though I am a Round I panelist in this Fiction Picture Book category for the Cybils, my opinions are solely my own and are not meant to reflect the final outcome.
Don't miss a thing: Check out our current giveaways. Subscribe to our feed or video reviews on YouTube. Follow us @5M4B on Twitter or on Facebook.
Dawn juggles teaching, parenting, and reading on a daily basis, sometimes hopping back over to give her blog, my thoughts exactly, a bit of attention, too.