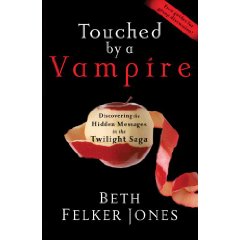 Last year when my daughter Amanda was in fifth grade —fifth grade— she insisted that all of her friends were reading the Twilight novels, and she wanted to read them. When I'm in doubt about whether or not a certain book's content is appropriate for her, I often just read it myself so that I can decide. I have not read the Twilight Series
, but I have talked to people who have.
I have just discovered a fantastic new resource dealing specifically with this hugely popular series for both teens and adults (and apparently every tween at my daughter's school, except her).
Whether or not you've read the book, if you have a teen daughter, the topic has likely come up.
Please visit my column at 5 Minutes for Mom today to read my full review of Touched by a Vampire: Discovering the Hidden Messages in the Twilight Saga, and enter to win your own copy of this book that you can use as a springboard to converse with your teen or even your other Twilight-obsessed grown-up friends.
Comments are turned off on this post to remind you to post your comment on the full post at 5 Minutes for Mom.

Contributing editor Jennifer Donovan manages 5 Minutes for Books and contributes to 5 Minutes for Giveaways. She blogs at Snapshot.