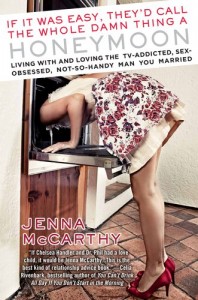 Marriage ain't easy, that's for sure, but there's something to be said at one's ability to laugh at the craziness. Jenna McCarthy is the queen of this, and her new book's title says it all– If It Was Easy, They'd Call the Whole Damn Thing a Honeymoon: Living With and Loving the TV-Addicted, Sex-Obsessed, Not-So-Handy Man You Married.
Honestly, I couldn't stop laughing while reading this, and my book has hardly any corners left unfolded, since I wanted to remember so many of the hilarious points McCarthy makes. I couldn't help but snort with laughter when reading this while riding on public transportation, and I noticed more than a few folks trying to sneak a peek at the interesting cover image!
If you want to know what all the laughter is about, click over to read my full review at 5 Minutes for Mom. You can enter to win one of two copies we have for giveaway, too! (U.S. and Canada residents.) The giveaway is closed.
Dawn loves her husband and children more than she can express, even if they all seem to drive her crazy. The fun of their lives is often chronicled on her blog, my thoughts exactly.