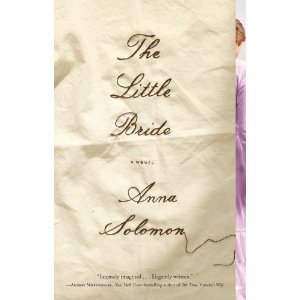 Life on the prairie was romanticized by Laura Ingalls Wilder and Janette Oke. Yes, there were dangerous Indians and hard winters, but the focus was the love of family and the persevering pioneering spirit. Anna Solomon presents a quite different look at the Dakota frontier in her novel The Little Bride.
The novel opens in the 1880s in the Ukraine. We meet 16-year-old Minna, a poor laborer. She's being examined — quite crudely and roughly — by a doctor. We later find that it's because she's signed up to be a mail order bride to go to America. She wants to escape the hopeless poverty and filth and sees this as her ticket out. The scenes are stark and almost coarse, which underscores the bleakness of her situation in her life there.
When she arrives in New York City, her excitement at everything new and her anxious anticipation of her new life is palpable. She is met at the station by Jacob, sent by Max, her husband to be to fetch her and take her to her new home in South Dakota.
Once she gets there and meets her husband for the first time, she is surprised to find her Orthodox Jewish husband to be much older than she is. In fact, her two stepsons are much closer to her age and temperament than he is, and there is even an attraction between Minna and one of the sons.
She's lonely. She's unsure, and she's isolated. And though she's worked to support herself for many years, she's really just a child, emotionally. Her crisis of facing this discouraging atmosphere day after day helps her to figure out who she is, what she's made of, and who she wants to be.
I liked The Little Bride for its unique look at the little-known Jewish culture on the American homestead frontier and for the interesting characters and original story.

Jennifer read both Laura Ingalls Wilder and Janette Oke, which gave her fantasies of a romanticized life on the prairie, but she appreciated this alternative view. She blogs at Snapshot.