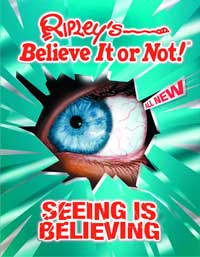 When this book arrived in the mail, my two year old eyed it suspiciously, declaring it to be "weird." He asked me if he would like it. I said probably not. The better question was really, "Would MOMMY like it?" The answer to that question is, "YES!"
Call it morbid fascination, but I've always been drawn towards Ripley's wild and crazy statements and claims. The newest edition in their series is called Seeing Is Believing!
and that is most definitely the case. I am totally grossed out by some of the stuff in this book but since I consider grossing people out to be one of Ripley's finer purposes in life, this was not unexpected. In fact, it was welcomed. While I do hate bugs and can somehow manage to squirm my way through with Ripley's in utter fascination.
Do you like pictures of little girls with SNAILS crawling all over their face? Fish getting caught in fences during a flood, looking all sick and distorted? Perhaps something more tame like the 11 year old who put on 168 t-shirts that increased his size such that he couldn't enter the front door of his house? Or, perhaps, something cool like light speed graffiti? Then there was a page in the book that my husband said I would NOT want to look at ("trust me"). Why am I drawn to this? I cannot say. Strange curiosities!
Seeing Is Believing!
is the latest in their series of belief-defying books. It's perfect for anyone who likes to be totally grossed and weirded out. Maybe that's you. Maybe it's someone you know. Strangely enough, it's me. Believe it or not!
Carrie comes by her book obsession honestly, having descended from a long line of bibliophiles. She blogs about books regularly at Reading to Know.