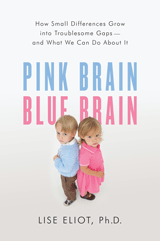 I wasn't sure what I would think about Pink Brain, Blue Brain
because I wasn't sure what the author's take was going to be towards traditional male/female roles. I wasn't sure if she was going to blast one sex over the other, which is what I so frequently see now (and find so heartily discouraging!).
Click on over to 5 Minutes for Mom to find out what I really thought about this book. You can also enter to win your own copy. Comments are closed here to remind you to leave your comment and your contest entry on the post at 5 Minutes for Mom.
Carrie comes by her book obsession honestly, having descended from a long line of bibliophiles. She blogs about books regularly at Reading to Know.