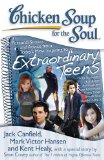 When you need a little inspiration in the form of a "I did it, and you can, too!" message, the Chicken Soup for Soul book series never disappoints. For people who crave emotional, faithful and gracious personal stories of perseverance, there is a wide variety of titles to choose from, but I have to say that the latest helping, Extraordinary Teens, is unique in its focus on people who went above and beyond the experiences of the typical teenager.
If you happen to have a teenager in your life, you're going to want to click over to 5 Minutes for Mom to read the complete review and enter to win your own copy, too!
With the birthday celebrations already a week past, Dawn is still in shock that her baby is four years away from teenager-status. She can be found working through her emotions at her blog, my thoughts exactly.