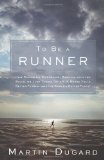 In early 2010, I started running. I was determined to like it and stick with it. I had tried running several times, but always quit because I didn't enjoy it at all. Two things helped me change that: my husband and son didn't think my efforts would last longer than three weeks and I wanted to participate in the Disney Princess Half-Marathon. Proving to my husband and nine year old that I could do it and having an excuse to head to Disney World were highly motivating, and I worked diligently toward my goal. I am excited to say that I completed the Disney Princess Half in February. Not only did I earn a medal, but I now love running.
In To Be a Runner: How Racing Up Mountains, Running with the Bulls, or Just Taking On a 5-K Makes You a Better Person (and the World a Better Place)
, author Martin Dugard discusses his own passion for running.
I hope you will click over to the Kirkus Reviews Blog to read my review. Whether you are a runner or not, Dugard's essays are an entertaining read!

Lauren is a wife, mother of two, and an avid reader. She blogs at Baseballs and Bows.