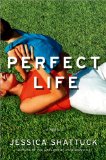 Sometimes a novel presents a reader with a character whose familiarity is comforting and transforms the reading experience into a nod-a-long of sorts. While I enjoy those types of books, I also appreciate when a book brings forth characters whose inner workings are new to me and force me to work a bit in trying to figure them out. Jessica Shattuck's new novel, Perfect Life, is most definitely in that latter category for me.
Focusing on four adults who will be forever linked from their college years, and something even more significant that I'll explain in a bit, this story addresses themes of love, friendship and just exactly what that elusive perfect life looks like to each of the characters. For Jenny, the new mother and business maven who lives and breathes control, this life is lived in her newly built suburban dream home, with her successful husband by her side. Laura longs for it more as a balance, including her professional pursuits and her familial experiences in equal measure, with a husband who puts down his Blackberry long enough to become fully invested. With Elise, it is represented by a peaceful life with her partner and their twin sons, building her connection with these boys who may not share her genetic material but are no doubt her children. And then there's Neil, the man who threw potential out the window in exchange for a life that couldn't be less perfect at the moment. For Neil, the image of a perfect life is elusive, and his cynical outlook generally discourages him from even imagining it in the first place. After agreeing to provide his former college girlfriend Jenny with a sample that could potentially become a child through the assistance of a fertility clinic, he now finds himself in a situation that he never imagined– the biological father of a child he will never be allowed to know. Yes, these connections run deep.
I really respected that the author didn't shove the novel's theme down the reader's throat– there was enough subtlety to each character's eventual revelations that I was able to appreciate the connecting threads without it feeling too campy or forced. While this novel does contain adult content and language, it feels authentic within the context of individual characters' lives and experiences. The characters of Perfect Life drew me in, and I enjoyed watching them navigate their own paths, through mistakes, bad judgments, accomplishments and renewals.
Dawn's perfect life features spilled yogurt, daily three-year-old protestations, and blathering blog posts at my thoughts exactly.