Last year, I participated in a blogging book challenge that really made an impression on me. The gist of the challenge was to read a certain number of books written by authors who were of different ethnicities than yourself. My selections included works by authors from Uganda, Denmark, Mexico, India, Russia, South Africa, Somalia and Sweden, and I found myself exposed to many books that I greatly enjoyed, yet probably would not have chosen on my own without this extra motivation. And now reading Ali Sethi's new novel, The Wish Maker, I can add to that growing list.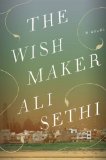 Set in modern day Pakistan, the central character of Zaki (rhymes with 'lucky') Shirazi returns home on break from college in the United States to attend the wedding of his cousin, Samar Api. This is one of those books that starts in the present, giving only a few details at first and then wanders for the rest of the pages through years and years of memories, from the perspectives of several characters, finally arriving at the beginning as you are turning the last of its pages. I sometimes worry that I am just a daft reader, in that while I find this literary technique to be quite clever and creative, I often have trouble following the story, often realizing much later than most other readers how the pieces fit together. That being said, the novel bursts with lyrical and beautiful language, producing images that are vivid and memorable, and the story is filled with joy and heartache for the characters who alternately arouse feelings of sympathy, respect and displeasure.
Often told from Zaki's perspective, the tone and perceptiveness grow as he gets older, and the political background of Pakistan at the time is ever present. He finds himself frequently pulled between the opposing affiliations and lifestyles of his grandmother and her immediate family, and his mother, an activist and journalist whose primary attention is paid to the country's political issues. An incredibly accessible character, Zaki kept my interest, even as the story-telling format jumped around in time, just as someone recounting memories often does.
The Wish Maker soars as a sweeping story of friendship, loss and love, as well as a vividly painted portrait of modern day Pakistan. I would recommend this book to anyone looking for an intelligently written and thought-provoking narrative that provides a glimpse into a world that may be foreign to his own.
When not traveling the world through the free rides of books, Dawn is at home in Maryland blogging away about the trivialities of her life at my thoughts exactly.
This review (and others we published this week) are linked up to Semicolon's Saturday Review of Books. Click on over and find out what else people in the blogosphere are reviewing, or link up your own review(s).