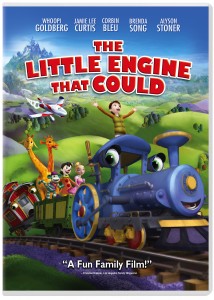 "I think I can. I think I can. I think I can."
Instantly recognizable as the famous line from the classic children's story by Watty Piper, this mantra is at the core of the new DVD release of the animated film The Little Engine That Could. Expanding on the traditional story, the film maintains the essence of Little Engine's character- someone who believes in herself, even in the face of significant challenges.
If you enjoy sharing this classic story with your children, or remember loving it as a kid yourself, be sure to check out my full review of the newly released The Little Engine That Could DVD on 5 Minutes for Mom!
There's a fabulous giveaway over there too, so please leave a comment on the full review post to be entered to win a copy of the DVD, a portable DVD player and an Amtrak "Kids Ride Free" ticket!
Dawn's children are big fans of both books and movies, but their parents push one more than the other. (Can you guess?) Both also make frequent appearances as topics on Dawn's blog my thoughts exactly.