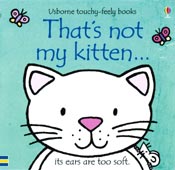 That's Not My Pony . . . its mane is too fluffy! Cue the little fingers! Each page of this wonderful series from Usborne books offers curious little readers and curious little minds a chance to explore. In That's Not My Pony . . . the reader can feel a squashy saddle, velvety patches, bumpy hooves, etc., all while trying to find their own pony. Which pony turns out to be theirs? The one with the soft nose that the child can pet, of course!
I love this series not only because it offers a chance for tactile learning but because it is so expansive. There are plenty of titles to choose from. Perhaps your youngster appreciates cats? Try That's Not My Kitten . . . There is a book about dinosaurs, dragons, princesses and angels, just to name a few others. (Looking for a good generic title to thrown in as a baby shower gift? Try That's Not My Teddy. . .)
The pictures are all delightfully cartoonish and straight forward. There is not too much happening on any page. The animal or person is presented along with enough of a scene to give the child context for the story. The story line for each book is the same. For example, in the kitten book, the child is eliminating all of the kittens with scratchy paws and fuzzy tongues, instead looking for the one that belongs to them – in this case it's the one with the fluffy tummy.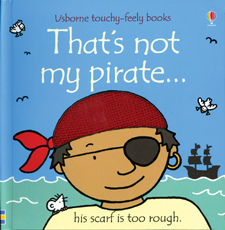 My son is particular drawn towards pirate themes these days. Therefore he is a particular fan of the That's not my pirate . . . selection. Some pirates have scarves that are too rough, hats that are too soft, eye patches that are too bumpy. We wanted the pirate whose beard was "so fluffy." (Coincidentally, and gratefully too I might add!, this was also the pirate who had a hook. We're really into pirates with hooks.)
These books are sturdy, well-made, good fun for little hands that like to explore and for mommies who like to cuddle with those little hands and spend quality time reading. Find a title that suits your child's interest and have fun!
Be sure to check out the Usborne Books & More website to see what other titles from this series are offered!
Carrie comes by her book obsession honestly, having descended from a long line of bibliophiles. She blogs about books regularly at Reading to Know.