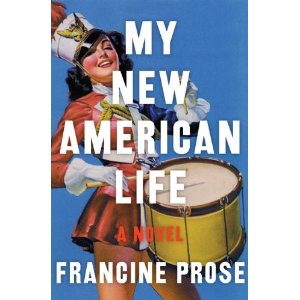 Lula is an Albanian immigrant who's overstayed her tourist visa but it's no problem—she has a sponsor. She's working in a quiet suburb as a live-in nanny for Mr. Stanley and his 17-year-old son Zeke, and she's pretty bored most of the time. Life spices up when she's visited by 3 young Albanian men in a $60,000 black Lexus, who claim they are relatives (they tell her all Albanians are related by DNA) and ask her to hide a gun for them.
My New American Life
deals with the life of recent immigrants and the lies they tell. Lula claims her parents were killed by NATO bombs and it's technically true, but what she doesn't mention is that the war was nearly over, and while many were fleeing from Kosovo into Albania, her dad got drunk and drove the wrong way, into Kosovo, where he accidentally smashed his car into a NATO tank. She retells Albanian folk tales and tries to pass them off as family history. When she senses her new American friends beginning to question her veracity, she trots out a story of her former life, in a land known for its particularly brutal communism, and gains sympathy. But alone, she cries for missing her country and for there being nothing to miss about her country.
Although her life is far from perfect, you don't worry about Lula. Her immigration lawyer, a decent man who is concerned about Guantanamo and takes cases pro-bono, calls her "a scrapper" at one point. It's an apt description. Lula is imaginative and resourceful and human; you know that in spite of ups and downs she's going to be okay, whether it's shepherding the disaffected Zeke to adulthood or surviving her new life in a post-9/11 America.
And the writing is beautiful. My New American Life
is funny, satirical, ironic. It's spot-on, pitch-perfect. Lula is absolutely believable in the midst of the cast of Albanian minor criminals, depressed American businessmen, admirable but flawed human-rights lawyers, and crazy ex-wives. Whether she's visiting colleges with Zeke and Stanley, going on a date with an Albanian mafia-type, cooking a turkey for a weird post-Norman Rockwell Thanksgiving dinner, or driving a car that she doesn't know how to drive, you applaud her every step and mis-step along the way.
Elizabeth can relate to life lived in a country very different from the one you grew up in. Read more of her adventures at her blog Planet Nomad.