Books serve many purposes. They help us escape, they give us instruction, and often they inspire. This giveaway package offers a selection of three books from men have inspiration to share.
Enter to win here, but keep these books in mind this week as you are doing some last-minute shopping for the fathers on your list.
Start Where you Are by Chris Gardner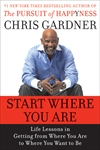 I enjoyed the movie based on Chris Gardner's story about pulling himself and his small son out of homelessness, The Pursuit of Happyness. So although I don't usually read "how to succeed in life" sort of books, I was curious about his new book Start Where You Are, and thought that he had earned the right to give "Life Lessons in Getting from Where You Are to Where You Want to Be" as the subtitle promises.
I have read a few chapters of this book, but haven't had time to finish it. However, I will say that I love Gardner's writing style. He shoots from the hip but also writes thoughtfully, and it reads as though he wrote it with a smile on his face. As I said, I don't usually read "self-empowerment" sort of books, but these short lessons each hone in on one of Gardner's keywords of success, including attitude, ingenuity, purpose, inspiration, passion etc. Another thing that I noticed is that the last chapter, "Finale — Takeaways" gives the reader "pocket-sized reminders of the life lessons and their applications" (page 287), which I love. I know that even when I read a book — on parenting or whatever — with some great points, I've inevitably forgotten them by the end of the book.
Speaking of parenting, I have found in the few chapters that I've read that I've been making a lot of applications to my parenting for some reason. Perhaps it's because an area in my life that I've struggled with and have been thinking about finding some purpose in it — some consistency and integrity. What that tells me is that you will find a relevant application in this book whether you are trying to figure out your direction in your career, determine your next step after an unexpected loss, or gather the gumption to do that which you know you must do.
Read an excerpt HERE.
Crazy for the Storm by Norman Ollestad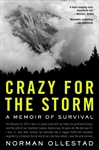 I'm not sure if Crazy for the Storm is inspiring per se, but the true story of Norman Ollestad is certainly thought-provoking. How is it that an eleven-year-old boy ends up as the sole survivor of a plane crash on a bitterly cold and fogged in mountain?
Ollestad tells his story in chapters alternating between the narrative of what happened when he was stuck there on the mountain and flashbacks of the influence that his father, who perished in the plane crash, had on his life.
I enjoy reading memoir, because although the circumstances are generally heartbreaking, seeing how a person comes out of difficult circumstances is generally inspiring. Ollestad's story is a bit different. His father pushed him — to succeed in downhill skiing and hockey competitions and to go beyond his comfort zone and take risks in the sport of surfing. His story is told without analyzing his own response to this unusual lifestyle or his father's motives in pushing him so hard. The events are emotional and sometimes gut-wrenching but told factually. He does sort of wrap it up in the end and apply it to his own life as a father, bringing it together quite well.
I think that this is because it was written by a man and possibly for men. This is not to say that a woman wouldn't enjoy it, but in addition to the style there is some crude language (think tween boyspeak, along with manly men who surround him, and you'll ge the picture). The detached recall of the events would probably appeal to men and possibly turn off some women. However, if you want to better understand a man in your life that perhaps had a father like Ollestad's, I think that the tales from his youth would probably be quite instructive.
Overall, it's a truthful story told of the intricacies of the relationship between a father and a son in those tenuous pre-adolescent years, along with the effect that this experience had on Ollestad throughout adolescence.
Want to find out more? The book trailer gives an idea of all of the interesting elements covered in this story. You can also read the first few chapters.
Coop by Michael Perry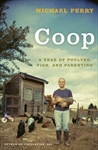 Carrie reviewed this book earlier this week, saying:
I cannot say enough nice things about Coop: A Year of Poultry, Pigs, and Parenting
. I suppose I could try, but this review would be really long and mostly redundant as I'd just be saying how great the book is over and over again. This book falls into my "top favorites" category. Honestly, I never thought a memoir would fall into favorites with me, but this one did. I. loved. it. ('Nough said? Hmm. I'll keep trying.)
She really did go on to say more. Read Carrie's full review here.
Read the first few chapters HERE.
Enter to win all three books.
Three of you will win all three of these titles from Harper Collins (U.S. and Canadian shipping addresses are eligible to win). Please leave a comment letting us know which title you'd dig into first (or which one you think that the lucky recipient of your gift would like most).
Comments will be closed for entry on June 27 and we'll announce the winners on June 28.
Enter our other current giveaways (including the other 2 Father's Day Giveaways). Subscribe to our feed. Follow us @5M4B on Twitter.
When managing editor Jennifer Donovan is not managing this blog, writing reviews, or blogging at Snapshot, she's reading.