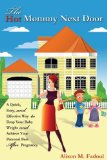 When I was pregnant with my first child nine years ago, I relished in the thought that I was free to eat what I wanted– I was eating for two, after all! I had the joy of being in my early 20's and was moderately in shape, but not as a result of any regular exercise regimen. Those nine months of eating for two (or at times, seemingly 22) really left their mark on my ever-expanding body. Once the baby was born, man oh man, could I have used Alison Fadoul's new book, The Hot Mommy Next Door: A Quick, Easy, and Effective Way to Drop Your Baby Weight and Achieve Your Personal Best After Pregnancy.
After the birth of a child, there's just so much that's turned upside down in your life, it's definitely a challenge to make your physical health and fitness a priority. Having gone down that road three times now, I feel confident in saying that my post-post-post-pregnancy body is just not what it used to be. But with this book, Ms. Fadoul presents a clear and organized foundation for a healthy lifestyle that minds eating and fitness habits in rational ways. She doesn't hold back the punches, either, reminding us that it's called a workout for a reason– it's hard work! The advice here is what we all know in our guts (some more saggy than others) is tried and true. Eating mindfully and healthily, while maintaining a physically active lifestyle will work to make our bodies healthy and strong. The humor and tone throughout that make this book feel like a conversation with your best, and very fit, girlfriend are just added bonuses.
As for me? Well, perhaps it's time for a lifestyle overhaul. I have to say that I wouldn't really mind being referred to as The Hot Mommy Next Door!
With three kids and never enough hours in the day, Dawn wonders if it's possible to read in her sleep. When she's not reading or changing diapers (or eating chocolate… oops!), she's blogging away at my thoughts exactly.