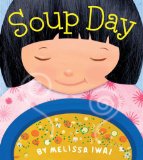 The winter winds are blowing cold now, so I wasn't surprised to discover that January is National Soup Month in the U.S.! For its nutritional value and ability to keep us warm, soup makes the perfect chilly winter evening dinner, and I personally love when I can offer my children books that relate to our everyday lives. Melissa Iwai's recent picture book Soup Day brings together educational concepts, real life experiences and adorable illustrations into the perfect winter evening storybook.
Read my full review at 5 Minutes for Mom today, and leave a comment for your chance to win. Comments are closed here to remind you to read the full review over there.
Dawn's own cooking skills leave something to be desired, but she's happy to be able to make one delicious pot of chicken soup all on her own! She blogs at my thoughts exactly.