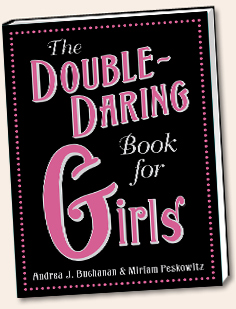 When I heard that the The Double-Daring Book for Girls was out, I knew one ten-year-old girl who would love to look at a copy.
Amanda and I had reviewed the first Daring Book for Girls (see review) by Andrea Buchanan and Miriam Peskowitz last November. When we got our copy of The Double-Daring Book for Girls, Amanda immediately started marking her favorite daring activity pages with post-it notes.
Part of the fun of being a mother is reliving my childhood. When I'm rolling my eyes at the silly song that Amanda and her friend are singing (repeatedly, again and again — in the confined spaces of a car), I stop wincing long enough to remember that when I was a tween that was exactly what my friends and I did (and it got exactly the same response from my mother).
What I liked about the Daring Book for Girls, and what I like about this second in the series, is that it's good old-fashioned fun. The activities in this book are ones that appealed to tweenaged me in the 80's, but are equally captivating to Amanda in 2009: making candles, memorizing two-letter Scrabble words to insure certain victory, and marveling over optical illusions.
It's sweet to compare our childhood experiences, but an even greater part about motherhood is watching my daughter grow into an entirely different person than I am. She tries things that I wouldn't have dreamt of doing at her age. In fact, though I've never dyed my hair in all of my thirty-eight years, she's been wanting to have purple hair or purple highlights for ages.
When she saw the "Dye your hair with Kool-Aid" activity in this book, she begged to do it. I told her that we'd give it a try over Spring Break. The anticipation built over the next couple of weeks, and when people asked her what she was doing for Spring Break, she told them, "I'm dying my hair purple!"

So my first experience with highlights was not giving them to myself or letting a friend foil my hair, but was lived out through my daughter. It was a fun experience to share.
Unfortunately, she added too much vinegar, diluting it too much, and her dark-ish hair didn't absorb much of the dye (which the book cautioned against), so I don't have a dramatic after photo. In fact, the whole experience reminded me of the scene in Beaches where conservative Hillary Whitney asks her more flamboyant friend CC Bloom's opinion on her hair: "It looks the same. You just spent two hours dying your hair exactly the same color." I won big Mommy points for letting her have purple hair, without actually having to deal with her having purple hair, so I think it worked out for me.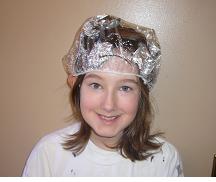 This Mother's Day Giveaway is supposed to be all about you, Mom, but since I had so much fun sharing this book with my daughter, I thought it was a good fit. See below for how you can win your own copy.
The book's website has more information about the book and fun downloads as well.
Managing Editor Jennifer Donovan also blogs at Snapshot about life with her tween daughter and preschool son.



To enter the 2009 Mothers Day Giveaway of The Double-Daring Book for Girls, leave a comment below.
All Mother's Day Giveaways are open to U.S. shipping addresses only.
The giveaway will close on April 30, and the winner will be announced on May 1.
For information on how to enter the grand prize to win a copy of each book in the Mother's Day Giveaway worth over $225, see the instructions on the main post.
Check out the list of all Mother's Day giveaways. Enter to win each book by leaving a comment on that post.