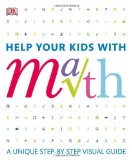 Within the first two weeks of school this year, my fifth grade son brought home a math worksheet and asked for some assistance. Since I successfully completed the standard number of years of schooling, plus four years of college, I was confident that a few minutes of my time would get this all cleared up. Ha. I had my very first experience of being stymied by elementary school homework.
If only I'd had DK's book Help Your Kids With Math by my side then! Like the other DK titles I've encountered in the past, the book as a whole is expertly presented. As the subtitle states, this is a "Unique Step-By-Step Visual Guide" that does more than simply instruct, from the basics of multiplication and division to the details of algebraic concepts, but as a whole, it's so much more than just another math tome. The text is informative, which is helpful for folks who learn best by working through the concepts with words.
But guess what? Some of us parents, just like our kids, might be better served with an array of graphics to illustrate the mathematical concepts being addressed, and in my opinion, this is the key strength of this volume. For the more complicated concepts (at least to some of us), such as statistics and complex quadratic equations, I'm hopeful that this book will assist me in future homework sessions.
For now though, I'm thinking that this book might be best used by my child as a reference book when working independently on his math. I'm happy that the bulk of his fifth grade math curriculum is addressed in Help Your Kids With Math, and whether it's him reading the book, or me using it to get me in a better position to help him, I consider it a valuable addition to our resource shelf.
Dawn used to be good at math (valedictorian, baby!), but these days the numbers she uses most often involve counting down during warnings to children or calling out "5 more minutes!" She chronicles these and other joys of parenting at my thoughts exactly.