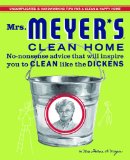 Just one look at this bright green cover with the author's face gently smiling up at me, made me hopeful that this would be a book that I could learn from. A book that I would find myself frequently pulling off the shelf, to remind myself of tricks and tips… like my own personal cleaning guru, in book form. Mrs. Meyer's Clean Home: No-nonsense advice that will inspire you to clean like the Dickens, by Mrs. Thelma A. Meyer herself is that exact book.
When I opened its pages, I half expected a fresh lemony scent to come wafting out, but instead I found something else I love– lists. Lots of them. Yippee! This book devotes separate chapters to individual areas of your home, and each chapter begins with a list of cleaning tools and products to keep on hand to tackle the needs of the particular area. In addition, Mrs. Meyer has helpfully combined all the suggested items and products into a master list in the beginning of the book as well. If that weren't enough, there are also suggested timetables for the major cleaning jobs that we often forget about… or maybe that's just me. Either way, it's all here- Spring cleaning, Fall Cleaning, daily, weekly, monthly time lines. As I read through this book, I almost wished that I could bring Mrs. Meyer into my own home for a while, if only to get me caught up!
Interspersed throughout the cleaning information are tidbits of advice that made me feel like my own grandmother was speaking to me, sharing her experiences about raising children, caring for a family and keeping it all together as the master of the household responsibilities. While I might not have necessarily agreed personally with all of her advice (I can't see making my bedroom a 100% child-free zone, since that would eliminate our Saturday morning snuggle times!), I could take it all with a grain of salt (which, incidentally, is something that also has many cleaning applications… who knew?) I recently discovered that there is an entire line of cleaning products that bear the Mrs. Meyer name, but to the credit of the author, this book never promoted her products at all. If anything, she most often gave cleaning advice that involves simple items like baking soda, vinegar, dishwashing liquid and lemon juice.
At my home, we will soon be tackling several home improvement jobs that have been put on hold for a while, but I know that as soon as the spackle dust clears, I'll be compiling my Spring Cleaning lists and consulting Mrs. Meyer's Clean Home for guidance.
Dawn has a whole lot of books she needs to go dust now. When she's not cleaning (like the Dickens or otherwise), she can be found blogging away at my thoughts exactly.



To enter the 2009 Mothers Day Giveaway of Mrs. Meyer's Clean Home, leave a comment below.
All Mother's Day Giveaways are open to U.S. shipping addresses only.
The giveaway will close on April 30, and the winner will be announced on May 1.
For information on how to enter the grand prize to win a copy of each book in the Mother's Day Giveaway worth over $225, see the instructions on the main post.
Check out the list of all Mother's Day giveaways. Enter to win each book by leaving a comment on that post.