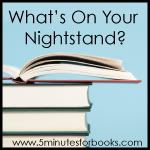 The What's on Your Nightstand carnival is the opportunity to figure out what you want to read over the next month, or tell us what you are currently reading now, or give a few mini-reviews of those books you just finished and are still on your nightstand because you haven't returned them to the library or the bookshelf.
Basically it's our monthly excuse to see what other people are reading and/or try to organize our reading plans.
Write your post on your blog and link it up here. Be sure to link over to this post so your readers can find the other posts too.

If this is your first time, please put that beside your name in the linky. People are good about visiting around, but we like to give first-timers a little extra attention.
Check out our current giveaways. Subscribe to our feed. Follow us @5M4B on Twitter.