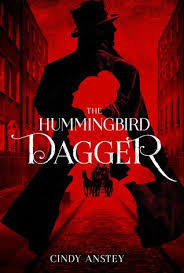 A young gentlewoman is pulled from a river after her carriage crashes, and she's taken to a nearby manor to recover. It's 1833, and no gentlewoman should have been traveling alone. The family is unsure of her social position, but as she recovers consciousness, it's obvious from her speech and manners that she belongs to their own class. However, she hasn't recovered her memory. On top of that, she is plagued with terrible nightmares of a dagger shaped like a hummingbird, with a beak that drips blood–her own blood.
She remembers the name Beth although she doesn't think it belongs to her. She and the young master and mistress of Hardwick Hall–Lord James Ellerby and his sister, Caroline–quickly become friends, as the three try to solve the mystery of who she is. No one in their set is mentioning absent family members, and there are other mysteries–her carriage driver, for instance, and where it was going. A man turns up claiming that Beth is his long-lost sister and refusing to take no for an answer. One of the household's maids disappears, and her body is then washed up on the beach. Are these things related to Beth's true identity?
James has only recently taken on his title, and his presence is required in the House of Lords to vote for a bill that would limit privateering, a practice which allowed what was essential pirating, taking over other ships for profit. Meanwhile his younger brother, a rapscallion named Henry, has developed a great admiration for a privateer visiting their neighbor. James soon begins to entertain romantic feelings for Beth–but then Henry, age 14, seems to have a crush on her as well.
The Hummingbird Dagger is a genre-busting blend of mystery, romance and historical fiction, and overall it succeeds. There may be a few anachronistic glitches but they did not get in the way of my overall enjoyment of the book. It's a fun read, fairly light but with enough twists and turns along the way to keep your interest.