It's that time again. In October of each year the color is pink and we think about our girls a lot more than we usually do.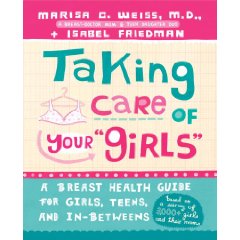 Because I have a pre-pubescent tween daughter in my house, I've actually been thinking a lot more about them in general. This summer we shopped for bras. They are much less bra-like than I remember my training bras being (Does anyone else remember those triangles covered with the lace mesh type material with the pink rosette in the middle?). They are really just like a smaller more bra-like cami. She needed these for an extra layer of coverage and for the social necessity of changing for gym in her new intermediate school, but it's becoming increasingly obvious that before too long, we might be moving towards cups.
I say that to say that when I got a copy of Taking Care of Your Girls: A Guide to Breast Health for Girls, Teens, and In-Betweens, I was interested. I wanted to learn about what I should tell her, what she might want to know, and honestly, I thought that I might learn some stuff about breast health, too, which is more on my mind as I near forty.
Read the rest of the review at 5 Minutes for Mom, and enter to win one of 5 copies (there aren't even that many entries yet).
Managing Editor Jennifer Donovan is a contributing editor at 5 Minutes for Mom. She has been blogging at Snapshot for over two years.