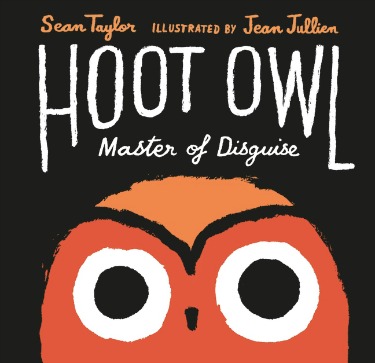 A hungry little owl is on the prowl one night, looking for a meal, but coming up short again and again. The picture book Hoot Owl, Master of Disguise by Sean Taylor and illustrated by Jean Jullien tells the story with some funny twists, from the owl's attempts at tricking animals into becoming his meal, to the finale of his eventual yummy treat, something that will likely make kids giggle rather than feel bad for the meal itself!
Hoot Owl may not be very big, but his appetite certainly is, and he's got his wide eyes set on a filling meal. Will it be the "tasty rabbit" hopping along in the forest? Or maybe the "juicy little lamb" standing still under the night sky? Oh boy, those captures would obviously make for a dark children's book, but don't worry, for Hoot Owl has some unique ways of attempting to capture his meals. His self-proclaimed title of Master of Disguise is a fitting one, for he can easily transform into things he thinks will attract his would-be prey, like a big, orange carrot, or a fluffy, white sheep mama. Too bad for Hoot Owl, though, that the creatures he meets will not fall for his tricks.
He continues on in the night, getting hungrier and hungrier still, until he comes across an open window at a restaurant and spies something so delicious that even the children hearing this story will agree that it would make good eating. Will Hoot Owl have the perfect disguise for this situation so that he can gobble up the tasty meal?
Of course he will, have no fear!
Jullien's big-eyed illustrations feature big blocks of solid color and thick black outlines, making the visuals appealing to even the youngest of readers, and the story's plot pattern is easy for little ones to follow, too. Add this one to your nighttime reading routine for a quick, fun story time with a few laughs.