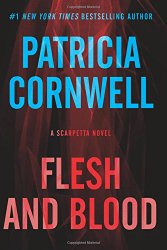 Dr. Kay Scarpetta is having a lovely morning, enjoying her garden, good fresh food, espresso, and the company of her husband, FBI-profiler Benton Wesley. It's her birthday, and the two of them are about to head off for a much-earned vacation in Florida from their home in Massachusetts. Then a flash of copper catches her eye and she finds 7 copper pennies lined up on the low wall that borders their property. There's something sinister about them–all neatly in a row, polished and gleaming bright, all from the year 1981.
Then she gets the call that there's been a homicide about 5 minutes from her house–and the MO matches two recent homicides in New Jersey. Complicating things is that the death was tweeted 45 minutes before it happened. It comes out that all 3 have loose connections to Scarpetta. The latest was wrongly put on a watch list by the FBI and ended up publicly excoriating Scarpetta in her job as chief medical examiner. All 3 were shot with deadly precision by a copper bullet, the last apparently from a great height. Additionally, only a month earlier Scarpetta received a disturbing poem from someone tagged as "Copperhead." Yet Scarpetta's super-techno, genius-level niece, Lucy, can't seem to find out much more about her. And Lucy was out flying a helicopter near the area where the man was shot.
On top of this, there's another case calling for her attention. A teenager snuck out of her house and is found drowned in a disused swimming pool, supposedly because of jumping on the cover which collapsed, but the story doesn't add up nor match the injuries on her body. The girl has ties to a powerful politician's son. The case seems completely unrelated to the killings, but Scarpetta has an uneasy feeling and begins following up on things, to her own personal risk.
Flesh and Blood
is the 22nd Scarpetta novel, although the first one I've read, and I thoroughly enjoyed it. Author Patricia Cornwell's style is very sensual; the first scene in the garden is a feast of tastes and sounds and sights. I felt that enough background was given that I was comfortable jumping into the series this far along, although it was obvious there was history with the various characters that I was clueless about. The action was brisk, the clues crisp, the characters believable, and the denouement shocking and satisfying at the same time. My only complaint is that the ending was a bit too abrupt. Obviously things are in place for the 23rd book, and I personally can't wait.
Highly recommended.