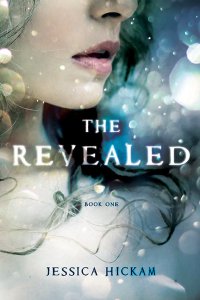 Lily Atwater is an eighteen year old in The Revealed by Jessica Hickham, which means that in this post-apocalyptic world, she's a target for a mysterious group called The Revealed who have been targeting eighteen year olds for no apparent reason, kidnapping them with no ransom or communication afterwards. Nearly 400 have vanished without a trace so far, and Lily knows she's on the target list.
She, of course, is lucky. Not only is she the only child of a presidential candidate, but because her family is one of the few that is rich, she doesn't have to go to work in factories – putting her further at risk of being taken – but she chafes at the ritual of the rich where she is essentially under house arrest in an effort to keep her safe from The Revealed.
Everyone fears The Revealed, partly because no one knows anything about this mysterious society and partly because the have the ability to control things that normal humans can't. They can start fires, cause things to ice over, control plants to tie people down and more.
The story is slightly more disturbing for me than it would be were it not for the girls who have been kidnapped in Nigeria, as there are definite parallels there. Fortunately, Hickham has succeeded in creating a world with a girl itching for independence who I can very easily relate to, although when I first started reading it and recognized that the book was going to be told from an 18 year old's perspective, I wasn't sure how into the book or character I would get.
I appreciated the multiple plot angles from the relationship that the Atwater family had with the other presidential candidate's family before the war to Lily's relationship with both of her parents – which has different tensions to it between her and her mother and her and her father – as well the happenings amongst Lily and the security contingent and her one friend, etc. They definitely keep the book moving, and they are smoothly plotted to intersect but not in a completely formulaic manner.
The only part that confused me was Lily's fixation on the fact that she thinks she's ugly and wants to wear her hair down. I kept waiting for a reveal that she has a scar from an injury that happened during the war or some other deformity or mark, but I waited in vain for a description of what she felt she had to hide.
This is just the first book in the series, and I read it in a day. The second book – I assume – will pick up where the first one has left off, as there is so much more to learn and discover and solve in this post-war world. I appreciate that the plot points that needed to be closed off in the first book were but that there is plenty remaining ambiguous to pick up in the next one in the series, which I will definitely be picking up.
The book is a light thriller – words that I don't often use together. It is a fun book, even as there is a definite element of panic as Lily continues to receive threatening notes from The Revealed (the only 18 year old who has) and as she attempts to both gain her independence and remain safe within her family. I appreciate that Hickham didn't use this first book to set the stage with lots of background and information for future books that didn't truly relate to character development or the plot of this book. It kept the book flowing much better than I've seen with some other authors.
Written by Michelle who is grateful that she is not the daughter of a presidential candidate. She has her own interests she's grateful she's been able to pursue. See what they are on her blog Honest & Truly! and follow along with her on Twitter where she is also @HonestAndTruly.