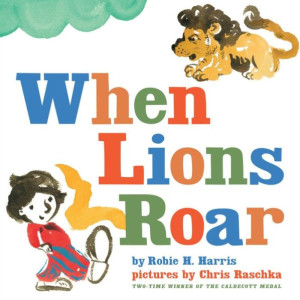 Childhood fear can come in many forms, and adults often may not even be aware of the cause of their child's fright. In a beautiful and touching picture book written by Robie H. Harris, this tender topic is addressed and offers young children an empowering option that is both respectful and reassuring.
Each page presents a new scenario in which a child might get a little scared, starting with an image of a child at the zoo and the lion and monkeys making loud noises from their cages, and including such things as thunder and lightning, barking dogs, and even a hollering parent or two. But the little boy in the book knows what he can do, taking a moment to calm himself and to send the "scary" on its way.
And it works! After taking charge, the boy finds that the world around him is suddenly calmer and quieter. His parents sing and dance with him, and all is well. This is the reassuring message that young children need to hear– that after a scary time, there's always a better moment to be had.
The touching tone of the story is matched absolutely perfectly with Chris Raschka's crayon and watercolor illustrations that convey emotion beautifully in just a few swipes of a paintbrush. Raschka has received more than one Caldecott recognition, and he continues to impress in this newest book.
Check out When Lions Roar for its beauty and emotionality, and you may find that it comes in handy with your own child at an opportune moment.