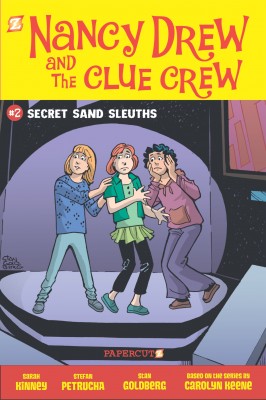 Both of my kids are avid readers, and they enjoy graphic novels. In my 4th grade son's case, there are some that he reads over and over again, for ease and comfort and enjoyment. But especially for those kids who dismiss reading as "not my thing," graphic novels are a great way to experience a full story in a way that doesn't feel as intimidating as a chapter book might.
The Nancy Drew "Clue Crew" books are typically early chapter books aimed at early readers (I'd say 1st – 2nd grade). Although one of the first panels in this graphic novel mentions it being a "3rd grade" field trip, I'd say that the style and content of this series will appeal to 3rd and 4th graders for sure. I hope the "Clue Crew" designation doesn't scare them off as younger fare, and I don't think it will. All it means is that this Nancy Drew and her pals are in elementary school, not teenagers.
Stan Goldberg is the artist responsible for the drawings, and as you can see from the cover, it's very fresh and young. He is known for the Archie comics, and I found lots of similarities in the style. Comic book fans of all ages might be interested in this connection.
Other books in the series:
Nancy Drew and the Clue Crew #1: Small Volcanoes