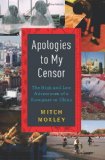 Apologies to My Censor: The High and Low Adventures of a Foreigner in China
follows the adventures of Mitch Moxley, a freelance journalist from Toronto who, at a loss for work and direction in life, on a whim takes a job with the government-funded English-language paper China Daily and moves to Beijing. It chronicles his adjustment to life as an ex-pat, his culture shock in Beijing, his involvements with other ex-pats, and his attempts to establish a career and figure out exactly what he wanted to do with his life. Moxley's tone of voice is witty and self-deprecating, and he has some unbelievable adventures. However the book does spend a fair amount of time navel-gazing, as Moxley, who turns 30 during his time in Beijing, tries to decide if he's ready to settle down.
Moxley's first job, at China Daily, is a good example of both what is great about the book and what is frustrating. He soon realizes that the paper is nothing more than state propaganda, and mostly responds by not really doing any work and spending all his time getting drunk with his fellow expatriates. But some of the scenes of his time at the paper are both hilarious and insightful. Case in point: when he accidentally refers to "Korea" instead of clarifying South Korea, and responds by making a joke about China and Taiwan also being two separate countries. His colleague responds very nervously. Or when he's supposed to report on "what Westerners think of China," and finds his finished piece edited beyond recognition.
After a year, he resigns from the paper and tries to make a go of it as a freelancer. He works for the Canadian Broadcasting Corp during their coverage of the Olympics, and supplements his meager income with voice recordings for English Language lessons–a job he describes as "boring to a degree I'd never imagined possible." His big break-through comes when he takes a job as a "Rent-a-White-Businessman" and writes up the story, and the Atlantic Monthly picks it up, and the story goes global. For a time, there is even talk of a movie being made.
The best parts of Apologies to My Censor
show Moxley's most unusual adventures. The book opens with a vivid description of his role in a music video as the star's European love interest, a role that in spite of promises to the contrary, involves his worst nightmare–sober dancing. Moxley also made the list of China's Top 100 Bachelors, and appeared on their version of "The Bachelor." He and a group of friends visit far-flung parts both for adventure and in search of stories; they do pieces on sex-trafficking and the mistreatment of African immigrants, among others. These parts showcase the highlights of living overseas–you get to see and experience things that would be entirely out of your reach had you stayed home.
However, Moxley is an honest writer and as the title says, he also shows his low points. He contrasts what he refers to as his "facebook life" –i.e. all the fun adventures and travels–with his boring everyday life. On the one hand, I appreciate this. I lived overseas from 2001-2010 and on my personal blog, my largest category is "boring everyday life" because life in an exotic place is still often humdrum, full of errands that take longer than they should, kids' homework, getting hair cuts and new socks. Sometimes these things make stories, but often they don't. On the other hand, Moxley's down points involve lots of drinking and drugs, and sometimes I felt he went into too much detail about expat parties, fights with friends, etc. It's a personal call, and others may feel he got the balance right. For me, though, sometimes the book just failed to keep my attention.
Apologies to My Censor
covers the years from 2007-2013, and ends with Moxley's decision to return back to the American continent. I hope he publishes an article on re-entry, which I have found to be in some ways more painful than culture shock. He's a good writer, and I look forward to reading more of his stuff. Apologies to My Censor
may not have found the perfect balance, but there's more than enough good stuff in there to make it a worthwhile read.