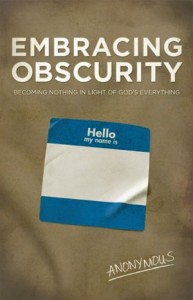 Embracing Obscurity: Becoming Nothing in Light of God's Everything by Anonymous really puts his/her money where his/her mouth is. Well, I'm assumed the author got paid in money, but by remaining anonymous he/she sacrifices any personal benefit that being a published author would provide — personally, professionally etc. This is a bit of stumbling block at first, because there's a lot of focus on it, and of course, there's a curiosity that cannot be quenched about who really wrote this book. This is something that some can't get over.
(This fact, along with other objections, led our Carrie to a completely different opinion. Check out her review at Reading to Know for a different perspective).
But for me, once I did get over it (well, sort of, I'm still extremely curious about the true authorship), I found Embracing Obscurity to be a practical and enlightening read.
I'm happy to say that you can enter to win a copy for yourself. Read my full review of Embracing Obscurity over at 5 Minutes for Mom, and follow the instructions in the rafflecopter to win your own copy.