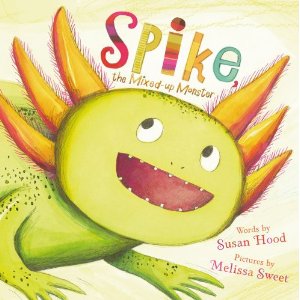 "Spike was a monster
or so he thought"
Spike, the Mixed-up Monster practiced his monster moves to look and sound scary, but the problem is that he's small, and so no one was afraid of him.
One day a real monster appeared at the pond — a gila monster. The other animals fled, all but Spike who stood up to him by baring his own monster teeth.
The monster stopped.
"Did I scare you?" asked Spike
"Scare me? No." El monstruo laughed.
"It's just that no one has ever smiled at me before."
Spike finds out it's better to be friendly than feared, and in the end, he earns respect from the other animals at the pond for confronting el monstruo.
There is a glossary in the back of the 12 Spanish words that are used throughout, though the context is clear, as in monstruo, or the words such as siesta and fiesta are familiar. This section also includes facts and pictures of Spike – the real life axolotl salamander who lives in Mexico, also known as the "water monster." There are pictures and facts about the other pond animals such as the armadillo and duck as well.
I enjoyed this unique book so much that it was my Cybils nominee.