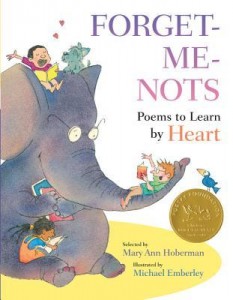 April may bring showers, but it also brings a renewed emphasis on poetry each year, thanks to the folks at the Academy of American Poets. Since 1996, every April has been declared National Poetry Month, and I try to get a little more poetry in my children's reading lives as a result.
While April may be coming to an end, poetry can certainly be enjoyed throughout the entire year, too. With that in mind, I'm happy to add Mary Ann Hoberman's Forget-Me-Nots: Poems to Learn by Heart to our collection of poetry books for kids. Turn to any page in the book, and you're sure to find a poem that will either get your child to giggle or pause for a moment in wonder. The eleven sections vary by category, some simply by length, which is helpful for me as a teacher. If my class has a few moments between activities, we can fill that time with a short poem or two. Other themed sections include time, animals, food, and feelings. For older children, the section that features passages from books like James and the Giant Peach and Alice in Wonderland just might have them ready to visit the library for continued reading!
Each page draws children in with whimsical pencil and watercolor illustrations by Michael Emberley that can be just as silly or tender as the poems they accompany. Altogether, there are over 100 poems included, and the list of poets features names one would expect to see in a children's collection- Shel Silverstein, Jack Prelutsky, Douglas Florian, and A.A. Milne. Add Robert Frost, Robert Louis Stevenson, Ogden Nash, Emily Dickinson, and Langston Hughes to the mix, and the fabulous factor rises even higher.
Even as the calendar turns away from April, poetry should continue to be a regular part of your child's balanced literary diet, and Forget-Me-Nots: Poems to Learn by Heart is a wonderful place to start, filled with poems that will delight children of all ages.
As a preschool teacher and mom, Dawn's life is filled with reading to kids, and she wouldn't have it any other way. Every now and then, she blogs away at my thoughts exactly.