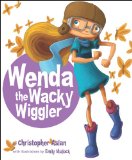 Before I even say anything, will you just look at that cover image? I admit to being way more influenced by the covers of books than I should be, especially when it comes to picture books, no doubt. When I first laid eyes on the illustrated cover for Wenda the Wacky Wiggler, I was immediately hooked. The bright colors and fun typeset were positives, but mostly it was that little girl with a gentle but confident smile, arms crooked in a self-assured way, wearing some unexplained wacky hat and glasses. Hooked.
I was unfamiliar with author Christopher Aslan's work, but I soon discovered that this title is actually his second in his picture book series, "The Rainbow Collection," which are intended to inspire and empower children. This story presents Wenda, a kind and happy little girl who is never quite still, whose constant movement is an expression of her own joy and spirit. Unfortunately, Wenda's fellow townspeople aren't as happy, and her presence is an annoyance to many, most especially the mayor. Upon declaring a ban of music of all kinds, the mayor believes that Wenda will simply have to stop her cheerful motions. Will the mayor and the grumpy townsfolk succeed in stopping Wenda's joy? Or will Wenda look inside herself for her own music, and in turn share her little light with everyone around her?
I'm thinking you can easily predict the direction this picture book takes, and it is simply delightful. Positive messages abound in children's books, and presenting it in a way that doesn't come off too preachy can sometimes be challenging. Wenda's tale is depicted in a heartfelt and straightforward manner, succeeding in being touching and dear, without going overboard. Told, of course, in rhyme, this book's rhythm and beat are intertwined with the story itself, making it almost impossible not to move a bit yourself while reading it aloud to your own favorite wiggler. And don't forget about those illustrations– brightly colored, softly edged, emanating warmth and happiness. Wenda the Wacky Wiggler is a beautiful story, in words and pictures, of learning to find your own inner music and joy.
Dawn lives with three little wigglers who march to the beats of their own drummers, for sure. Their wiggling ways are often described on her blog, my thoughts exactly.