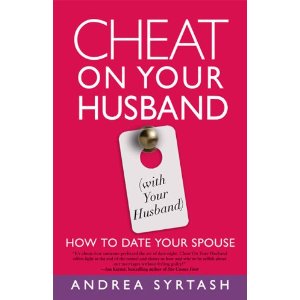 Did I make you click through to read this? Were you thinking "What the heck??" If so, that's exactly the same thought I had when I saw this title pop up at NetGalley. If this cover and title doesn't win the "most scintillating title ever for a truly useful book" then I don't know what would (What do you say? There aren't awards for titles? Well — there should be).
The full title is Cheat On Your Husband (with Your Husband): How to Date Your Spouse, and Andrea Syrtash gives practical advice and a good boost in motivation to all of us women who are so bogged down in doing it all that she forgets her marriage and herself.
Please click over to the Kirkus Reviews blog to read my full review of Cheat On Your Husband (with Your Husband). I'd love to hear what you think!
Jennifer Donovan has been married over 18 years. She has a 13-year-old daughter and a 7-year-old son, which explains the revelations she had that she's let some things go. She blogs about her family at Snapshot.