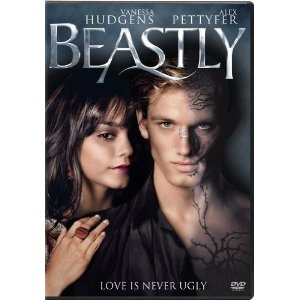 So, yes, the reason I had heard of the YA novel Beastly is because I began seeing previews for the movie, (and the only reason I paid any attention to the movie was the fact that the blind tutor is played by my favorite Neil Patrick Harris). But Brilliance audio released an audiobook that I could review, and the book itself had good reviews, so I was glad to have been given a reason to read/listen to the book.
It's obvious from looking at the movie previews that some things are different. Kyle is not really a beast, but a sort of odd bald scarred and tattooed freak. I could understand the change — it rooted the story more in reality and made it seem more believable. But looking at a sort of mutilated person was actually more gut-wrenching than just looking at a hairy beast.
Also, whereas Lindy in the book was homely and bookish, the Lindy in the movie is portrayed by Vanessa Hudgens, making Kyle's ability to love her less of an issue, since before the change, shallow handsome Kyle looked down on everyone, especially unattractive everyones.
Obviously, I'm going to say that I like the book more, and I do. Changing the way you think and see the world is an internal process and so the book obviously allowed more of a glimpse into that. I will say that the movie did a great job of building the romance between the two leads.
There are some changes, but materially it is the same. The book just digs deeper as well as adding an interesting fantasy subculture in the midst of an otherwise realistic setting.
The movie is probably slightly more appropriate for younger girls than the book. The movie is rated PG-13 for some thematic elements and some cursing. However, I'd give the book a stronger PG-13 rating for some sexual references and even more mature thematic elements (having to do with Lindy's father's drug problem). If I let anything go, it's language (in both movies and books), so I guess it actually depends on your take.
Jennifer Donovan loves stories of all types, especially when she can share them with her daughter. She blogs at Snapshot.