If you're like me, every time you walk into Kohl's department store, you quickly scan the special display shelves near the entrance to see if there is a current Kohl's Cares promotion. I've been so happy to pick up some fabulous hardcover picture books and stuffed animal characters there in the past, which have had lots of love by my own children as well as in my preschool classrooms over the years.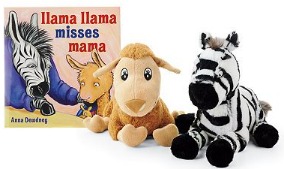 Kohl's Cares cause merchandise program offers products at incredible prices, and also contributes 100% of the net profit to children's causes and organizations. Over at 5 Minutes for Mom today, I'm talking about the current four books on promotion, including two picture books and stuffed plush characters who are sure to be familiar if you've got a little llama child of your own.
We're giving away all four books and two adorable stuffed animals, so head over to my 5 Minutes for Mom post to enter to win!
Shopping isn't her favorite thing to do, but when it involves getting books on sale, Dawn's happy. She blogs away at my thoughts exactly.