A few weeks ago, a package arrived from Simon and Schuster with two books that appealed to me immediately. The first is I Must Have Bobo!
. To give you a little background information, I have a daughter who loves her blankie. White Blankie is practically a member of our family (in fact, my daughter would choose White Blankie over her family sometimes). Since my daughter started kindergarten, White Blankie and my Best Girl have had to separate during the day, and this has not been easy. I had to smile as soon as I started reading I Must Have Bobo!
.
Willy, the young boy in the story, has a monkey named Bobo. Bobo helps Willy with everything, and Willy "MUST HAVE BOBO!" Unfortunately, Earl (the cat) also loves Bobo. As you can imagine, this causes friction between Willy and Earl. Whether it is a white blanket or a stuffed monkey, some things are hard to share. Children understand this better than anyone, and this is a story that will make them laugh. The sparse text and simplistically modern illustrations are appealing and add to the humor while leading children to predict what will happen next. If you have a child who has a favorite item or toy, I Must Have Bobo!
is sure to be a hit.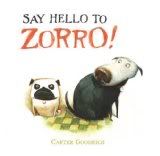 The second book, Say Hello to Zorro!
is about Mister Bud, a dog whose life is perfect. He has his schedule just the way he likes it. Then, Zorro shows up. Zorro is a bossy little pug who destroys Mister Bud's idyllic life. When Mister Bud and Zorro find something in common, however, they realize they can survive together and have a little fun at the same time.
Although it is about dogs, Say Hello to Zorro!
would be a great book for children who are about to become big brothers and sisters. For a child, a new sibling can be threatening, and a new baby in the house can destroy the comfort of familiarity for a time. This story is funny and would enable a lighthearted discussion about how things change when we welcome new people into our lives. The illustrations and text in this book are also simple, yet appealing. The characters remind me of the dogs from UP, which makes sense considering the author, Carter Goodrich, is an award-winning animator for Pixar.
Both Say Hello to Zorro!
and I Must Have Bobo!
are fun new books for kids. Be sure to check them out!
Lauren is a wife, mother of two, and an avid reader. She thanks Simon and Schuster for the review copies of these books. Lauren blogs at Baseballs and Bows.