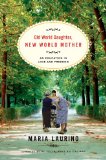 When I read the title of Maria Laurino's new book, Old World Daughter, New World Mother: An Education in Love and Freedom, my immediate expectation was that I would soon be reading a memoir filled with anecdotes of a typical Italian family, and I was curious to discover what the author would describe as the contrasts of the Old and New worlds. While I wasn't disappointed on those fronts, I was also pleasantly surprised to find that this book presented much more food for thought.
While Ms. Laurino shares with us a fair amount of reflections on her experiences straddling the two worlds, as she begins to make her way in the world as an adult, and especially after becoming a mother herself, she also brings a trove of information and research to the table with this book. Delving into the history of feminism in our country and marking the points at which the various theories that have been labeled feminist over the years also remarkably intersect with more traditional, or Old World values intrigued me. Opting for a "feminist belief in the autonomy of the female body" (i.e. natural delivery) during labor, rings very much the same as an Old World birth experience with a midwife, for example. There's much to be said about the ideals behind the many faces of feminism, but I found Ms. Laurino's approach to the discussion quite refreshing.
While she tackles many aspects of experiences of women today, from forging careers to having children, there was one subtopic that she weaves throughout the discussion that interested me the most. The idea of dependency on others seems to immediately carry a negative connotation in our society, and it seems to be that independence is sold as the ultimate goal for people today. Yet the author makes the emphatic case that this is an unavoidable aspect of life– dependence, and interdependence, is key to everything. Families are essentially interdependent units, and she argues that our New World values often seem to forget this key fact when expressing expectations and making policies. At the heart of this book are thoughts about balancing work and family, and exactly what that looks like for women today, but more importantly, how it could look with some societal tweaking.
I find it difficult to label this book a straightforward memoir, since it alternates between that tone and one of a well-researched social commentary or editorial piece. Ms. Laurino brings attention to a wide variety of issues that face all women today, while also bringing her unique perspective as the daughter of second-generation Italian-Americans. As a mom who has tried her hand at working both full-time and part-time, as well as my current gig as a stay-at-home, I found this book to be affirming of many of my own personal struggles, as well as uplifting in its hopefulness for a different direction in the way we think about the lives of women.
Dawn enjoys reading books that make her think about something beyond Clifford the big red dog and changing diapers. She can be found blogging about all the random things that come into her head at my thoughts exactly.



To enter the 2009 Mothers Day Giveaway, leave a comment below.
All Mother's Day Giveaways are open to U.S. shipping addresses only.
The giveaway will close on April 30, and the winner will be announced on May 1.
For information on how to enter the grand prize to win a copy of each book in the Mother's Day Giveaway worth over $225, see the instructions on the main post.
Check out the list of all Mother's Day giveaways. Enter to win each book by leaving a comment on that post.