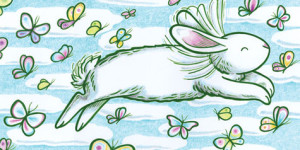 "When he hopped under the butterflies, he wondered what it would be like to flutter through the air" (from Little White Rabbit by Kevin Henkes)
I'm sort of a new convert to Kevin Henkes' beautiful picture books, but now I'm a fan.
Little White Rabbit is a sweet story, perfect for this season, but with a theme that is going to be appreciated far beyond Easter and Spring.
Little white rabbit hops away from home each morning, experiencing the world, but each afternoon when he returns home, he knows he is safe and loved.

Though it wasn't stated explicitly, since this is a book of few words, I had to make the parallel myself, but Little White Rabbit was free to explore because he knew he was safe and loved at home. I get that message as a mom, and I hope that it will translate to the little ones who hear the story read as well: The world is big and can be dangerous, but it's worth exploring.
You can see more pictures like the one above, as well as a video of Henkes himself talking about the process on the Little White Rabbit amazon product page.
Check out our other reviews of books by Kevin Henkes.

Jennifer Donovan loves encouraging her children to be Free Range Kids and tries to create a safe loving haven at home as well. She blogs at Snapshot.
Check out our current giveaways. Subscribe to our feed. Follow us @5M4B on Twitter or on Facebook or YouTube.