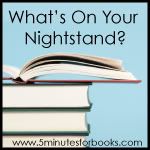 Maybe we should all take advantage of tomorrow, Leap Day, to catch up on our reading. Who's in??
Regardless of whether or not you will be able to use some of those extra leap hours that are re-aligning our calendar to read, I do hope that you've had an enjoyable reading month behind you, or are planning one for March.
That's what this monthly Nightstand carnival is all about. Let us know what you've recently finished and moved off your Nightstand, or which books are lined up waiting for their chance to be read.
You can also tell us how or why you chose to read a particular book or even how you read — via library loaner, bookstore find, ebook download, or audiobook listen.
There are no rules. Just write up a post, link up, and then visit around if you can to see what others are reading. Put the link that goes directly to your post in the linky. If it's your first time, include that in the linky description so we can give you and extra warm welcome.
Check out our current giveaways. Subscribe to our feed. Follow us @5M4B on Twitter or on Facebook or YouTube.