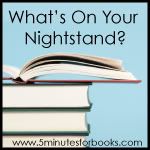 Follow us on Pinterest and Facebook
Do you have a summer reading plan? This week Dawn wrote about her own
Diversity Reading Challenge
over at
5 Minutes for Mom
, and I wrote about one way you can
take your book club or personal reading to the next level
. Do you have a plan for this first month of summer vacation? If so, I'd love to hear about it.
My kids are out of school next week, and my commitments with a Bible study I help lead ended a couple of weeks ago, so I've had a taste of my summer schedule, and I've been enjoying increased reading time. I'm alternating between catching up on my review commitments and doing some personal reading. I spent the holiday weekend devouring Wild: From Lost to Found on the Pacific Crest Trail, Cheryl Strayed's memoir, and hope to watch the movie sometime soon.
After that I have a couple of YA books, another Middle Grade book, and a couple of novels that I hope to get through. We'll see.